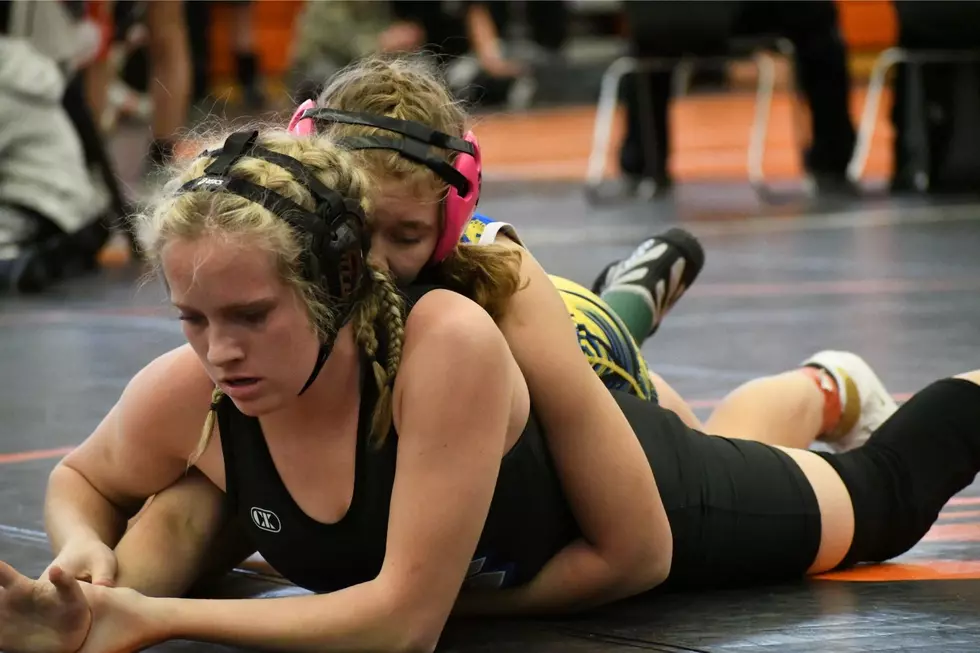 PhotoFest! Powell Wrestling Tournament
Photo Courtesy: Bridget Truempler
Powell traditionally has been one of the season-opening events on the wrestling calendar with 17 teams participating this year. Laurel, Montana placed 1st with Huntley Project 2nd, Natrona 3rd, with Powell 4th. The brackets were huge and there was a sizable contingent of girls' competitors. So here are the highest-finishing Wyoming placers in each weight class, boys and girls.
Boys:
106 lbs.  Gabriel Whiting-Powell (2nd)
113 lbs.  Tristen Tromble-Natrona (2nd)
120 lbs.  Darren Provost-Campbell County (2nd)
126 lbs.  Aiden Ruby-Wind River (5th)
132 lbs. Jameson Siemens-Natrona (2nd)
138 lbs: Colson Myers-Buffalo (2nd)
145 lbs. Hunter Velarde-Lander (2nd)
152 lbs. Beau Russell-Natrona (2nd)
160 lbs. Roedy Ferrell-Thermopolis (1st)
170 lbs. Wyatt Trembly-Dubois (1st)
182 lbs. Pehton Truempler-Shoshoni (1st)
195 lbs. Noah Sides-Natrona (2nd)
220 lbs. Jace Grant-Cody (2nd)
285 lbs. James Love-Lovell (1st)
Girls:
105 lbs.  Lindsey Peters-Buffalo (2nd)
110 lbs.  Annabeth Bornhoft-Wind River (1st)
115 lbs.  Emily Skiba-Lander (3rd)
120 lbs.  Andraya Conchola-Natrona (2nd)
125 lbs.  Yessenia Teague-Powell (1st)
130 lbs.  Telia Peters-Buffalo (1st)
135 lbs.  Danika Crumrine-Lovell (1st)
140 lbs.  Rivers Carrell-Worland (1st)
145 lbs.  Alix Sorenson-Thermopolis (1st)
155 lbs.  Abrianna Kiser-Shoshoni (1st)
170 lbs.  Ashton Hubbs-Cody (1st)
190 lbs.  Harley Hunter-Campbell County- (1st)
We have some all-star photos from the Powell Invite courtesy of Greg Wise, Adria Trembly, and Bridget Truempler. They can be found in our gallery below. Enjoy!
Powell Wrestling Tournament
Powell Wrestling Tournament