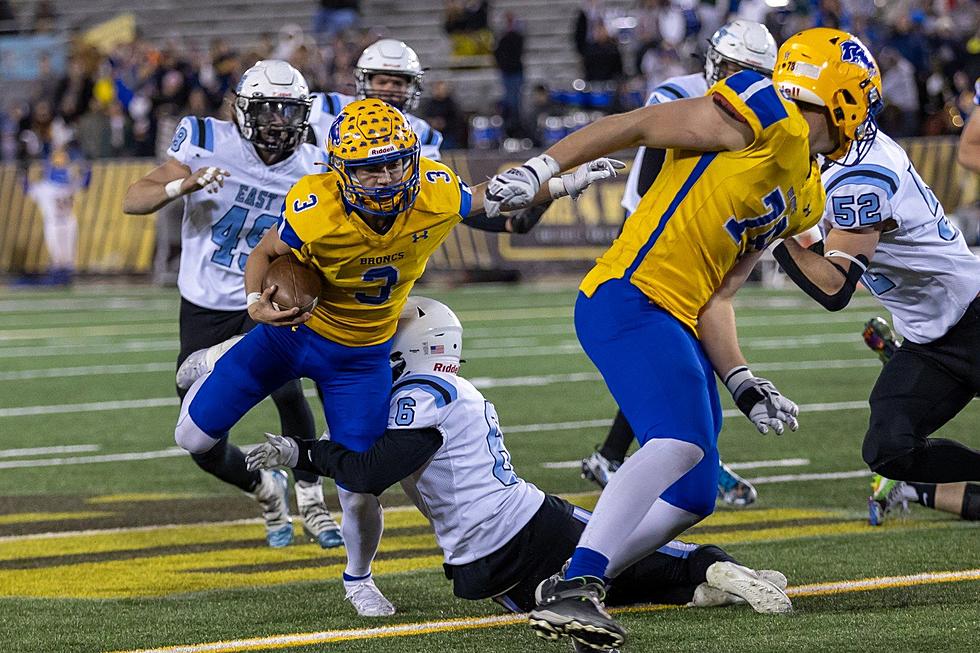 PhotoFest! Sheridan Defeats Chey. East for 4A Football Title
Photo Courtesy: Libby Ngo
Sheridan was looking for their 3rd consecutive State Championship in 4A football on Saturday in Laramie and had a productive 2nd half to beat Cheyenne East 31-3. Sheridan led 7-3 at halftime which was unusual, to say the least considering the high-powered offenses these 2 teams possessed. The lone first-half touchdown was a 67-yard catch and run by Dane Steel. East got on the board with a 30-yard field goal from Liam Fox but that was the end of their scoring.
Sheridan quarterback Dominick Berrettini rambled into the end zone from 18 yards out to give the Broncs a 14-3 lead. in the 4th quarter, Berretini scored again, this time from 6 yards out to bump the lead to 21. Ty Gilbertson nailed a 33-yard field goal later in the quarter with Terran Grooms bulling his way into the end zone from 16 yards out to make it 31-3.
The Sheridan defense did a super job in this game as East quarterback Cam Hayes was under pressure practically from start to finish. He was 22-41 for 166 yards and ran the ball for 47. Sheridan had 208 yards on the ground and the T-Birds garnered 102. The Broncs finished the year unbeaten at 12-0 and East went 10-2 with both losses coming to Sheridan.
Be sure and check out our video from Saturday's game at War Memorial Stadium and some first-class photos from Libby Ngo. Those images can be found in our gallery below. Enjoy!
Sheridan-Cheyenne East 4A Football Championship
Sheridan-Cheyenne East 4A Football Championship
Gallery Credit: Libby Ngo