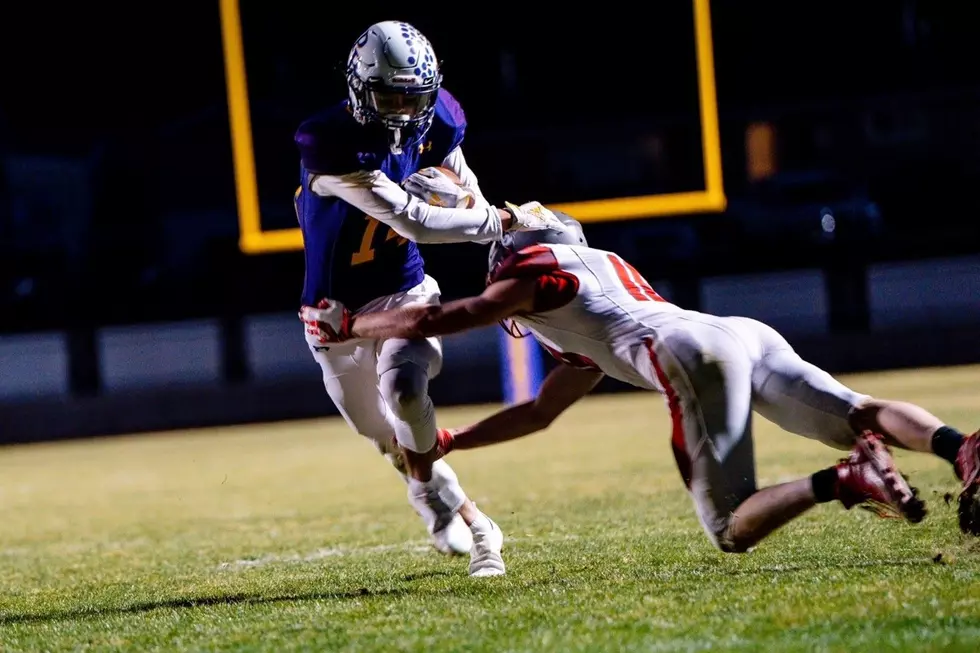 Pine Bluffs Rolls Into 1A 9-Man Semi-Finals
Photo Courtesy: Ashley Jessen
Pine Bluffs is 9-0 in the 1A 9-Man season after an impressive 45-16 home win over Big Piney in the quarterfinal round of the playoffs. The Hornets jumped out to the lead with a pair of touchdown runs from Dalton Schaefer from 4 yards out and 1 yard out. Big Piney stayed in the game as Braunsn Smith returned a kick-off 75 yards to the end zone for a TD and with the successful 2-point try, the Punchers trailed 13-8 after one-quarter of play.
Pine Bluffs started to rev it up in the 2nd quarter as Schaefer recorded his 3rd rushing touchdown of the night and Taylor Beeken contributed a 10-yard run for a score giving the Hornets a 26-8 lead at the halftime intermission.
Big Piney reached the end zone in the 3rd quarter on yet another kickoff return for a touchdown, this time from Ruben Stoutenberg that went for 85 yards. The 2-point try was good so the Punchers at this point were down 26-16. Pine Bluffs answered right back as Beeken got into the end zone from the 2 to bump the lead to 33-16.
Pine Bluffs put the game away in the 4th quarter with a couple of scores. The first one was a TD pass from Stu Lerwick to Shawn Shmidl that went for 22 yards and Dalton Schaefer returned a punt 35 yards for a touchdown.
Pine Bluffs will have a home semifinal game on Friday at 4 pm meeting Rocky Mountain. Big Piney ended the season with a record of 6-3. The Punchers have qualified for the playoffs in 5 of the last 6 years.
We have a few photos of the game to share thanks to Ashley Jessen and they can be located in our gallery below. Enjoy!
Pine Bluffs-Big Piney Football Playoffs
Pine Bluffs-Big Piney Football Playoffs