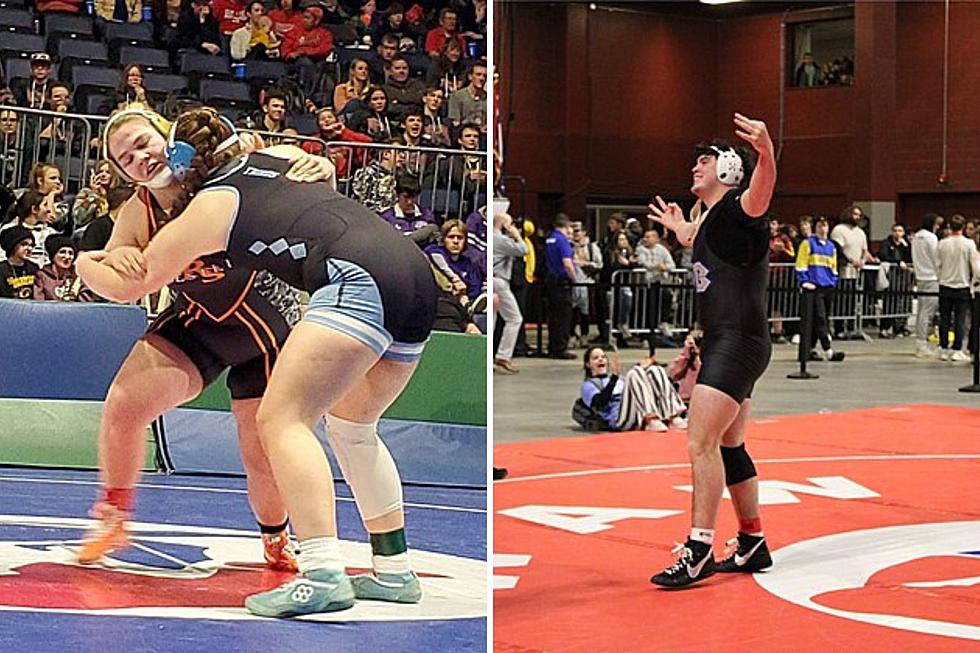 Rock Springs' Maggie Smith and Gillette's Lane Catlin Win Excellence Awards
Frank Gambino/Kolby Fedore, Townsquare Media
Rock Springs senior Maggie Smith and Thunder Basin senior Lane Catlin have each received excellence awards in the last two days.
The National Wrestling Hall of Fame announced the state winners on Wednesday and Thursday for the Tricia Saunders High School Excellence Award (TSHSEA) and the Dave Schultz High School Excellence Award (DSHSEA).
Both awards recognize and celebrate the nation's most outstanding high school female and male wrestlers for their excellence in wrestling, scholastic achievement, citizenship, and community service.
Smith was 30-0 and won the 190-pound bracket at the inaugural Wyoming High School Girls Wrestling State Championships in February. She has signed to wrestle at Colorado Mesa University in Grand Junction, CO.
Catlin went 45-0 in the 2022-23 season and capped his career with his third state championship as he won the 285-pound title in February. He has signed to wrestle at the University of Wyoming.
The state winners are evaluated and selected based on three criteria: success and standout performances and sportsmanship in wrestling; review of GPA and class rank, academic honors, and distinctions; and participation in activities that demonstrate commitment to character and community.
Smith and Catlin were the state winners for Wyoming. The Cowboy State is part of the West Region along with Alaska, Arizona, California, Hawaii, Idaho, Montana, Nevada, Oregon, Utah, and Washington. The West Region is one of five across the country for both awards.
The regional winners will be announced on April 25 for the TSHSEA and April 26 for the DSHSEA. The national winners will be revealed on May 2 and 3, respectively. The TSHSEA and DSHSEA national winners will be honored during the 46th Honors Weekend at the National Wrestling Hall of Fame & Museum on June 2 and 3 in Stillwater, Oklahoma.
According to a release, first presented in 2014, the female award is named for Tricia Saunders, a four-time World Champion, and women's wrestling pioneer. Saunders was the first woman to be inducted as a Distinguished Member of the National Wrestling Hall of Fame in 2006 and was inducted into the United World Wrestling Hall of Fame in 2011. The male award was established in 1996 to honor Olympic and World champion Dave Schultz, whose career was cut short when he was murdered in January 1996. He was inducted into the National Wrestling Hall of Fame as a Distinguished Member in 1997 and as a member of the United World Wrestling Hall of Fame in 2016.
Girls State Wrestling Tournament-Championship Round
Girls State Wrestling Tournament-Championship Round
Boys State Wrestling-Championship Round
Boys State Wrestling-Championship Round