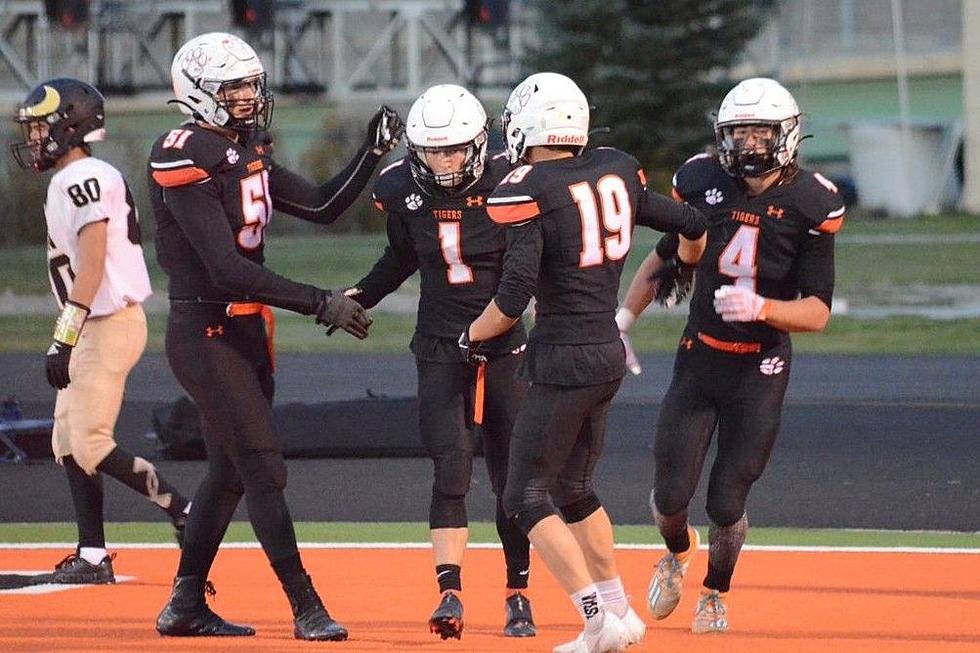 Rock Springs Rolls to Victory #6
Jasey McBurnett Townsquare Media
Rock Springs kept pace in the 4A race thanks to a 65-0 win over Cheyenne South on Friday. The Tigers are 6-1 and ranked #1 in our WyoPreps poll and in this game on Friday, they buried the Bison with a gigantic first quarter.
There were big plays aplenty in that opening quarter as Andrew Skorcz returned a kick 75 yards for a touchdown, Isaac Schoenfeld followed that up with a 55 yard run to the end zone. Saben Carlson had a 4 yard Td run and Jake Eddy contributed a 14 yard run for a score. So at this point, Rock Springs had a 28-0 lead and there was more to come.
Carlsen scored again on a 32 gallop to the end zone, Braxton Smith joined the TD party and Skorcz reeled off a 62-yard run and that put the game out of reach. Skorcz scored his 3rd touchdown of the game in the 2nd quarter and the Tigers took the foot off the gas,
Rock Springs will be at home this week to meet a pesky Cheyenne Central tea, Cheyenne South is winless on the year and some younger guys have seen a lot of playing time. The Bison will host winless Laramie on Friday,
We have some images of that Rock Springs-Cheyenne South game in our gallery, so many thanks to Jasey McBurnett for providing those.
Rock Springs Vs. Cheyenne South Football 10-8-21
Rock Springs Vs. Cheyenne South Football 10-8-21
10 Of The Most Famous Wyomingites In History
We asked our listeners to tell us who they thought was the most famous Wyomingite in History, here are the top 10 picks. NOTE: To be a Wyomingite you do NOT have to be born here, but you DO have to have lived here for at least a year.
- 10 Of The Most Famous Wyomingites In History