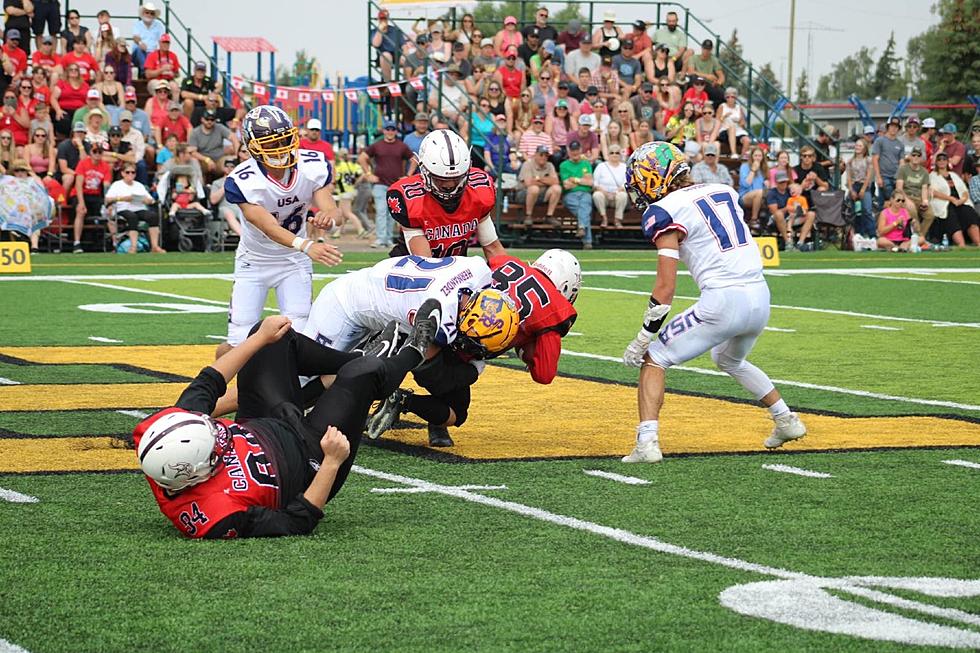 Team USA Blows Out Team Canada, 84-16, in CanAm Bowl XXV
Courtesy: Jamie Maloley
Setting a record for the most points scored in the CanAm Bowl series, Team USA rolled past Canada, 84-16, Saturday in Hanna, Alberta, Canada.
The four Wyoming players in the game contributed significantly to the Team USA victory in the 6-man all-star football game.
It began with Little Snake River's Hadley Myers. He returned the opening kickoff 88 yards for a touchdown that gave the USA an early lead they would never relinquish. Myers finished with 106 yards rushing and added a 21-yard TD pass.
LSR's Kannadis Peroulis ran for 237 yards on just four rushing attempts and had two TDs. Teammate David Hernandez snagged an interception he returned for 27 yards and blocked a punt.
Clayton Rux of Dubois played the center position, a spot he has never played before.
Team USA Coach Scott Reed said,
"Once again the Wyoming kids we took shined out! All four played great!"
The USA took a 20-5 lead in the series after last Saturday's win.
Next year's game, CanAm Bowl XXVI will be played in Wyoming for the first time. The game will be in Meeteetse on July 6, 2024.
WyoPreps wants to thank Coach Reed for his help with statistical information in this story.
CanAm Bowl XXV in 2023
Photos from CanAm Bowl XXV in Hanna, Alberta, Canada on Saturday, July 8, 2023.