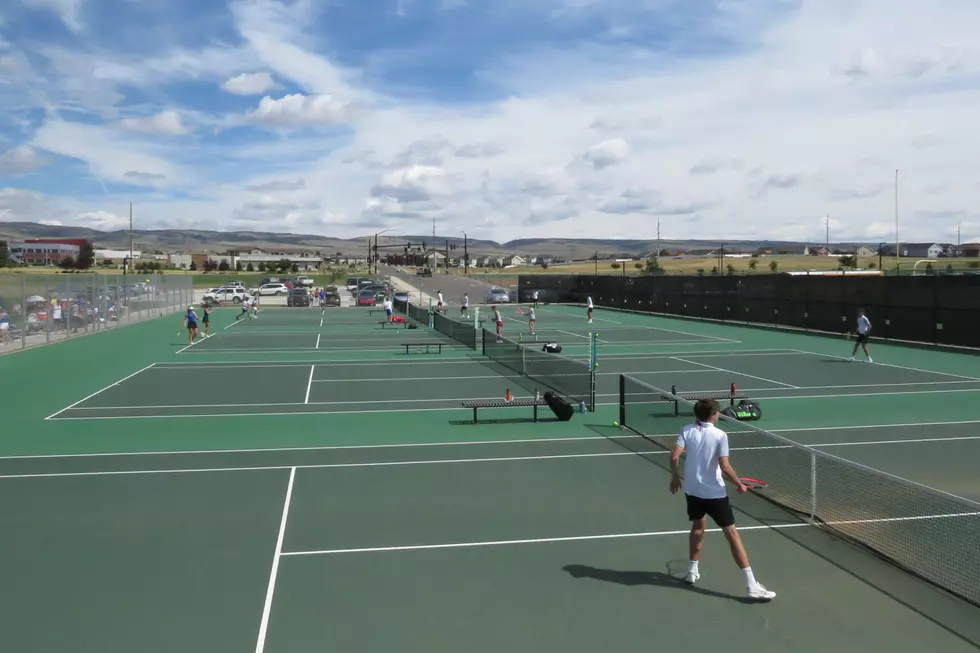 Wyoming High School Tennis Scoreboard: Sept. 5-9, 2023
David Settle, Townsquare Media
We have reached the last week of the regular season of prep-level tennis in Wyoming. This week, there is plenty of action as teams try to fit in their last matches.
Regionals next weekend will be the 15 and 16. The North will head to Thunder Basin and Cheyenne South will host the South.
All schedules are subject to change.
Tuesday, Sept. 5
Girls = Cheyenne Central 5 Torrington 0
1S: Ashli Smedley (Cent) def. Olivia Judkins: 6-0, 6-0
2S: Hailey Mathis-Breitkopf (Cent) def. Madix McIntosh: 6-0, 6-0
1D: Tyler/Smedley (Cent) def. Russekk/Hatch: 6-0, 6-1
2D: Dereemer/O'Donnell (Cent) def. Foy/Grubbs: 6-2, 6-2
3D: Flowers/Shoemaker (Cent) def. Boyden/DeFoe: 6-0, 6-3
Boys = Cheyenne Central 5 Torrington 0
1S: Mike Ellison (Cent) def. Adam Bartlett: 6-4, 6-3
2S: Nathaniel Thornell (Cent) def. Jorey Asmus: 6-2, 6-2
1D: Smedley/Black (Cent) def. Hatch/Thomas: 6-3, 6-1
2D: Klaassen/Bush (Cent) def. Schneider/Posten: 6-2, 6-0
3D: LeBeaumont/Thornell (Cent) def. Jones/Steinbrecher: 6-1, 6-2
Girls = Torrington 3 Cheyenne East 2
1S: Finley Kastens (CE) def. Olivia Judkins: 6-0, 6-3
2S: Madix McIntosh (Tor) def. Caroline DiSenso: 6-4, 6-6 (10-8)
1D: Courtney/Arago (CE) def. Russell/Hatch: 6-2, 6-1
2D: Foy/Grubbs (Tor) def. Artery/Sandoval: 6-2, 6-4
3D: Boyden/DeFoe (Tor) def. Smith/McMullen: 4-6, 6-2, 6-1
Boys = Cheyenne East 4 Torrington 1
1S: Colin Crecelius (CE) def. Adam Bartlett: 6-1, 6-2
2S: Armando Hernandez (CE) def. Jorey Asmus: 6-2, 6-2
1D: Hatch/Thomas (Tor) def. Bohlender/Schutz: 3-6, 6-4, 7-5
2D: Seelye/Brown (CE) def. Schneider/Posten: 6-1, 6-4
3D: Sutherland/Peterson (CE) def. Jones/Steinbrecher: 6-1, 6-1
Boys = Laramie 4 Cheyenne South 1 (boys only)
1S: Andrew Lock (CS) def. Paula Mellizo: 6-3 6-0
2S: Declan O'Connor (Lar) def. Lukas Davidson: 6-1 6-2
1D: Dennis/Pikal (Lar) def. Waters/Bechtel: 6-0 6-0
2D: Killpack/Krueger (Lar) def. Martin/Gonzales-Urias: 6-0 6-0
3D: Coulter/Giron (Lar) def. Ferrero/Valentine: 6-0 6-1
Girls = Green River 4 Rock Springs 1
1S: Brianna Strauss (GR) def. Karlie Nandrup: 4-6, 6-3, 6-3
2S: Abby Jones (RS) def. Grace Gomez: 6-0, 6-2
1D: Skinner/Harris (GR) def. Barker/Hitt: 6-2, 6-2
2D: Peterson/Cochrun (GR) def. Shuler/Turnwall: 6-3, 6-3
3D: Buetel/Lopez (GR) def. Frazier/Killpack: 6-4, 6-3
Boys = Rock Springs 4 Green River 1
1S: Chris Wilson (GR) def. Chandler Smith: 7-5, 6-4
2S: Tanner Tryzbrak (RS) def. 7-6 (3), 7-6 (6)
1D: Davies/Swaffard (RS) def. Nielsen/Hokanson: 6-3, 6-1
2D: Baker/Aanerud (RS) def. Neher/Maez: 4-6, 6-4, 6-1
3D: Wiberg/Cornia (RS) def. Dodson/Berg: 6-1, 6-1
Girls = Kelly Walsh 5 Natrona County 0
1S: Taylor Nokes (KW) def. Karolina Loubrova: 6-3, 6-3
2S: Harper Klinger (KW) def. Madeline Elston: 6-0, 6-1
1D: Catchpole/Wilson (KW) def. Cisarova/Vondra: 6-4, 6-3
2D: Hager/Klosterman (KW) def. Cole/Scott: 3-6, 6-4, 7-5
3D: Muldowney/Krueger (KW) def. Bundau/Cantrell: 6-3, 6-2
Boys = Kelly Walsh 5 Natrona County 0
1S: Ethan Palmer (KW) def. Zach Chenevert: 6-2, 6-4
2S: Gage Christensen (KW) def. Jerome Neumiller: 6-2, 6-1
1D: Strand/McGrath (KW) def. Ingram/Shape: 1-6, 7-5, 6-0
2D: McCoul/Romer (KW) def. Anderson/Huxtable: 6-0, 6-0
3D: Johnson/Butler (KW) def. Jones/Hebert: 6-1, 6-0
Thursday, Sept. 7
Boys = Cheyenne South 5 Rawlins 0 (boys only)
1S: Andrew Lock (CS) def. Lincoln Searle: 6-1, 6-3
2S: Lukas Davidson (CS) def. Brady Snyder: 6-0, 6-0
1D: Waters/Bechtel (CS) def. Cherek/Bergman: 6-2, 6-1
2D: Martin/Gonzalez-Urias (CS) def. Lascano/Maetos: 6-2, 6-3
3D: South wins by default
Girls = Kelly Walsh 5 Campbell County 0
1S: Taylor Nokes (KW) def. Samantha Torres: 6-0, 6-1
2S: Harper Klinger (KW) def. Gracie Ranum: 6-0, 6-0
1D: Catchpole/Wilson (KW) def. Mills/Rodriguez: 6-1, 6-3
2D: Hager/Klosterman (KW) def. Araujo-Martinez/Martinez: 6-2, 6-1
3D: Larson/Bird (KW) def. Schafer/Haibult: 6-1, 6-2
Boys = Kelly Walsh 4 Campbell County 1
1S: Ethan Palmer (KW) def. Jaxon Richert: 6-1, 6-1
2S: Gage Christensen (KW) def. Cooper Lemm: 3-6, 6-3, 6-4
1D: Barton/Robertson (CCty) def. Strand/McGrath: 6-1, 6-1
2D: Romer/McCoul (KW) def. Jenkins/Walker: 6-1, 6-0
3D: KW wins by default
Girls = Natrona County 5 Campbell County 0
1S: Karolina Loubrova (NC) def. Samanta Torres: 6-1, 6-2
2S: Madeline Elston (NC) def. Gracie Ranum: 7-5, 6-1
1D: Cisarova/Vondra (NC) def. Mills/Rodriguez: 6-0, 6-1
2D: Scott/Cole (NC) def. Araujo-Martinez/Martinez: 7-6 (2), 7-5
3D: Bundau/Cantrell (NC) def. Schafer/Haibult: 6-2, 6-3
Boys = Natrona County 4 Campbell County 1
1S: Zach Chenevert (NC) def. Jaxon Richert: 6-2, 7-5
2S: Grayson Ingram (NC) def. Cooper Lemm: 6-1, 6-2
1D: Barton/Robertson (CCty) def. Neumiller/Shade: 6-0, 6-1
2D: Anderson/Huxtable (NC) def. Jenkins/Walker: 6-7, 6-4, 7-5
3D: NC wins by default
Girls = Cody 4 Powell 1
1S: Lachelle Lee (Pow) def. Noelle Graham: 6-4, 1-6, 6-3
2S: Karina Schoessler (Cody) def. Maya Landwehr: 2-6, 6-4, 6-1
1D: Despain/Wenke (Cody) def. Whipple/Whipple: 6-4, 6-1
2D: Foote/Wassink (Cody) def. McKeen/Czirr: 6-4, 6-1
3D: Dansie/McGonagle (Cody) def. Morrow/Petersen: 6-3, 6-1
Boys = Powell 4 Cody 1
1S: Cade Queen (Pow) def. Nick Stewart: 6-3, 7-5
2S: Nathan Preator (Pow) def. Carter Thompson: 1-6, 7-5, 7-5
1D: Hicswa/Schultz (Pow) def. Dudrick/Miller: 6-2, 6-0
2D: Schwab/Wallace (Cody) def. Barrus/Wormald: 3-6, 6-3, 6-4
3D: Stensing/Schultz (Pow) def. Law/Domingo: 7-5, 7-6 (6)
Girls = Thunder Basin 3 Natrona County 2
1S: Karolina Loubrova (NC) def. Brianna Ketchum: 6-2 6-2
2S: Ellie Garcia (TB) def. Madeline Elston: 6-1, 4-6, 6-2
1D: B. Kendrick/Gorsuch (TB) def. Cisarova/Vondra: 6-1, 6-2
2D: Tachick/E. Kendrick (TB) def. Scott/Cole: 6-3, 4-6, 6-1
3D: Bundau/Cantrell (NC) def. Coombs/Doherty: 6-1, 6-4
Boys = Thunder Basin 3 Natrona County 2
1S: Zach Chenevert (NC) def. Tate Moore: 6-3, 6-3
2S: Grayson Ingram (NC) def. Owen Gorsuch: 6-0, 6-0
1D: Youngs/Gulley (TB) def. Neumiller/Shade: 6-0, 6-1
2D: G. Moore/J. Moore (TB) def. Anderson/Huxtable: 6-0, 6-0
3D: Lass/Aylesworth (TB) def. Reyes/Jones: 6-2, 6-4
Girls = Green River 4 Torrington 1
1S: Brianna Strauss (GR) def. Olivia Judkins: 6-0, 6-0
2S: Madix McIntosh (Tor) def. Grace Gomez: 6-4, 7-5
1D: Skinner/Harris (GR) def. Russell/Hatch: 6-2, 6-4
2D: Peterson/Cochrun (GR) def. Foy/Grubbs: 6-3, 6-1
3D: Beutel/Lopez (GR) def. Boyden/DeFoe: 6-3, 6-0
Boys = Green River 4 Torrington 1
1S: Chris Wilson (GR) def. Adam Bartlett: 2-6, 6-1, 6-4
2S: Dylan Archibald (GR) def. Jorey Asmus: 7-5, 6-3
1D: Hatch/Thomas (Tor) def. Nielsen/Hokanson: 1-6, 6-4, 6-3
2D: Neher/Maez (GR) def. Jones/Steinbrecher: 6-7 (10-12), 6-4, 7-6 (8-6)
3D: Dodson/Berg (GR) def. Carlson/Hendricks: 7-6 (7-4), 2-6, 7-5
Kelly Walsh at Thunder Basin - missing results 
Rock Springs vs. Torrington (in Laramie) - missing results
Friday, Sept. 8
Boys = Green River 4 Cheyenne South 1 (boys only)
1S: Andrew Lock (CS) def. Chris Wilson: 6-0, 6-0
2S: Dylan Archibald (GR) def. Lukas Davidson: 6-2, 7-5
1D: Hockenson/Nielson (GR) def. Waters/Bechtel: 6-2 6-2
2D: Nehar/Maez (GR) def. Gonzalez-Uris/Martin: 6-4 6-1
3D: Berg/Dodson (GR) def. Ferrero/McAlester: 6-0 6-0
Girls = Cheyenne Central 5 Rawlins 0
1S: Ashli Smedley (Cent) def. Kirsten Anderson: 6-1, 6-0
2S: Hailey Mathis-Breitkopf (Cent) def. Kinsey Hooper: 6-0, 6-0
1D: Tyler/Smedley (Cent) def. Hooper/Smart: 6-1, 6-1
2D: Dereemer/O'Donnell (Cent) def. Pacheco/Jenkins: 6-0, 6-1
3D: Flowers/Shoemaker (Cent) def. McCulloch/Skidgel: 6-0, 6-0
Boys = Cheyenne Central 5 Rawlins 0
1S: Mike Ellison (Cent) def. Lincoln Searle: 6-1, 6-4
2S: Nathaniel Thornell (Cent) def. Brady Snyder: 6-0, 6-0
1D: Smedley/Black (Cent) def. Bergman/Chizek: 6-0, 6-1
2D: Klaassen/Bush (Cent) def. Lascano/Maetos: 6-0, 6-0
3D: Central won by default
Girls = Rawlins 3 Cheyenne East 2
1S: Kirsten Anderson (Raw) def. Finley Kastens: 6-0, 6-0
2S: Kinsey Hooper (Raw) def. Caroline DiSenso: 6-0, 6-2
1D: Arago/Courtney (CE) def. Hooper/Smart: 6-0, 6-1
2D: Pacheco/Jenkins (Raw) def. Sandoval/Artery: 6-4, 6-4
3D: McMullen/Smith (CE) def. Skidgel/McCulloch: 6-1, 6-2
Boys = Cheyenne East 5 Rawlins 0
1S: Colin Crecelius (CE) def. Lincoln Searle: 6-2, 6-3
2S: Armando Hernandez (CE) def. Brady Synder: 6-0, 6-0
1D: Bohlender/Schutz (CE) def. Chizek/Bergman: 6-1, 6-1
2D: Seelye/Brown (CE) def. Lascano/Maetos: 6-0, 6-2
3D: East won by default
Boys = Rock Springs 3 Cheyenne South 2 (boys only) 
1S: Andrew Lock (CS) def. Tanner Smith: 6-1 6-0
2S: Lukas Davidson (CS) def. Tanner Tryzbiek: 6-2 6-0
1D: Swafford/Davies (RS) def. Waters/Bechtel: 6-1 7-5
2D: Baker/Aanured (RS) def. Gonzalez-Uris/Martin: 6-0 6-1
3D: Wiberg/Carona (RS) def. Ferrero/McAlester: 6-2 6-0
Saturday, Sept. 9
Sheridan at Campbell County 
Kelly Walsh at Cody
Natrona County at Cody
Cheyenne Central at Green River
Cheyenne East at Green River
Kelly Walsh at Powell
Natrona County at Powell 
Cheyenne Central at Rock Springs 
Cheyenne East at Rock Springs
Sheridan at Thunder Basin 
Wyoming High School Sports Pics of the Week: Aug. 24-26
Wyoming High School Sports Pics of the Week: Aug. 24-26