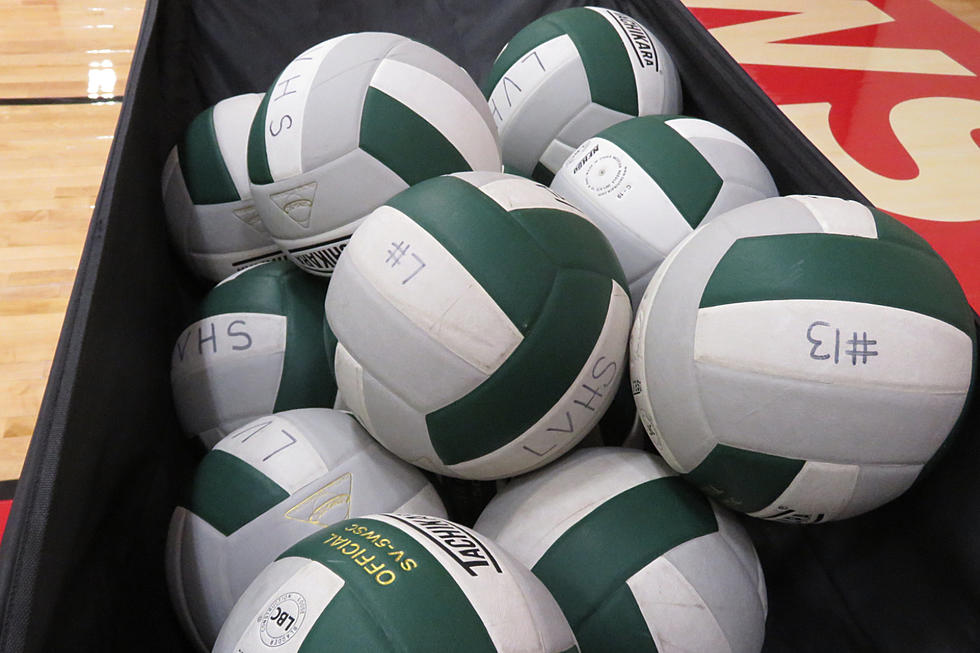 Wyoming High School Volleyball All-Conference Awards for 2023
David Settle, WyoPreps.com
The 2023 all-conference honors for the high school volleyball season have been released.
The following players received the accolade after voting by the head coaches in their conference.
Players are listed by school name first, then alphabetically by their last name. If you see a name misspelled, our apologies, we're going off the lists sent to us. Please email david@wyopreps.com with a correction.
CLASS 1A:
Northwest
Selena Call – Burlington
Sarah McNiven – Burlington
Breanne Walker – Burlington
Kenzy Day – Dubois
Arianna Foster – Dubois
Ava Jory – Dubois
Keira Wadge – Dubois
Camille Anderson – Meeteetse
Ava Bushnell – Meeteetse
Kayla Horsen – Meeteetse
Dakota Cervantes – Riverside
Brooklyn Paxton – Riverside
Anna Stone – Riverside
Vinaya VanderPloeg – Riverside
Player of the Year = Vinaya VanderPloeg, Riverside
Coach of the Year = Cindi Smith, Riverside
Northeast
Abigail Odegard – Arvada-Clearmont
Natalee Harrison – Hulett
Ellie Jay – Hulett
Kaydence Olson – Hulett
Myah Shoun – Hulett
Casey LeDoux – Kaycee
Denise Ortega – Kaycee
Ryann Palmer – Midwest
Bella Keller – Upton
Sophie Louderback – Upton
Breeley Materi – Upton
Maddie Mills – Upton
Sydney Schneider – Upton
Zoey Wilson – Upton
Player of the Year = Sophie Louderback, Upton
Coach of the Year = Myla Mills, Upton
Southwest
Bryli Groll – Cokeville
Kylee King – Cokeville
Reagan Teichert – Cokeville
Dakota Vierig – Cokeville
Kyenna Jackson – Encampment
Cadence Jones – Farson-Eden
Cashley Criswell – Little Snake River
Kenzie Evans – Little Snake River
Kinlie Montgomery – Little Snake River
Regina Herrera – Little Snake River
Makenna King – Saratoga
Josie Little – Saratoga
Player of the Year = Reagan Teichert, Cokeville
Coach of the Year = Jenny Evans, Little Snake River
Southeast
Rylie Thompson – Guernsey-Sunrise
Justine Widdison – H.E.M.
Mikayla Alexander – Rock River
Naomi Moore – Rock River
Avery Scott – Rock River
Jentry Sims – Rock River
Baylie Booth – Southeast
Sasha Haines – Southeast
Brooklyn Leithead – Southeast
Hadley Leithead – Southeast
Kylee Llewellyn – Southeast
Angie Logsdon – Southeast
Player of the Year = Mikayla Alexander, Rock River
Coach of the Year = Heather Alexander, Rock River
CLASS 2A:
Northwest
Chaise Benasky – Greybull
Caroline Boyer – Greybull
Kennedy Croft – Greybull
Aleksey McColloch – Greybull
Kelsie McColloch – Greybull
Brittly Boettcher – Rocky Mountain
McKelle Moss – Rocky Mountain
Shelby Wambeke – Rocky Mountain
Morgan Donelson – Shoshoni
Sway Fike – Shoshoni
Abigail Jennings – Shoshoni
Tania St. Clair – Shoshoni
Cylie Honstein – Wind River
Maggie Jensen – Wind River
Player of the Year = Kelsie McColloch, Greybull
Coach of the Year = Sara Schlattmann, Greybull
Northeast
Emme Mullinax – Big Horn
Maui Orum – Big Horn
Emma Prior – Big Horn
Saydee Zimmer – Big Horn
Lexie Marchant – Sundance
Jaylin Mills – Sundance
Abree Coyne – Tongue River
Chaney Reish – Tongue River
McKinlee Scammon – Tongue River
Jaz McOmber – Wright
Shaelyn Strohschein – Wright
Jocelyn Umiker – Wright
Player of the Year = Saydee Zimmer, Big Horn
Coach of the Year = Alli Nikont, Big Horn
Southwest
Lizzy Brandt – Big Piney
Kodee Greene – Big Piney
Kaity Shreve – Big Piney
Micah Strong – Big Piney
Sophie Archibald – Kemmerer
Natasha Martinez – Kemmerer
Gracee Painter – Kemmerer
Janae Skidmore – Kemmerer
Laynee Walker – Kemmerer
Saraka Gardner – St. Stephens
Beth Kellum – Wyoming Indian
America Oldman – Wyoming Indian
Annalilla Sanchez – Wyoming Indian
Anessa White – Wyoming Indian
Player of the Year = America Oldman, Wyoming Indian
Coach of the Year = Jodie King, Kemmerer
Southeast
Madison Foley – Burns
Sienna Gallegos – Burns
Tehya Gallegos – Burns
Brooke Hansen – Burns
Savannah Kirkbride – Burns
Natalie Speckner – Lingle-Ft. Laramie
Gracie ZumBrunnen – Lusk
Melody ZumBrunnen – Lusk
Avery Gray – Pine Bluffs
Emily Haas – Pine Bluffs
Jessica Hoffman – Pine Bluffs
Hattie Lerwick – Pine Bluffs
Player of the Year = Brooke Hansen, Burns
Coach of the Year = Anndee McKinney, Burns
CLASS 3A:
West
Isa Byrd – Lander
Kyndal McFadden – Lander
Libby Mickelson – Lovell
Hailey Eldredge – Lyman
Paige Rose – Lyman
Mylie Micheli – Mountain View
Ali Sibert – Mountain View
Kate Walker – Mountain View
Reagan Davis – Pinedale
Gabrielle Rogers – Pinedale
Alexa Richardson – Powell
Addy Thorington – Powell
Stevee Walsh – Powell
Hanna Hill – Thermopolis
Ellianna Baumstarck – Worland
Anna Richardson – Worland
Player of the Year = Addy Thorington, Powell
Coach of the Year = Lesli Spencer, Powell
East
Cassidy Bessler – Buffalo
Grace Finkle – Buffalo
Tess Rule – Buffalo
Holland Stowe – Buffalo
Leah Ewing – Douglas
Landree Meeks – Douglas
Lauren Olsen – Douglas
Avynn Yost – Douglas
Megann Farley – Glenrock
Natalee Scribner – Moorcroft
Delainey Dresen – Newcastle
Kenadie O'Malia – Rawlins
Olive Osmera – Torrington
Gavrielle Dawson – Wheatland
Anna Matthews – Wheatland
Kacey Otero – Wheatland
Player of the Year = Holland Stowe, Buffalo
Coach of the Year = Michelle Dahlberg, Buffalo
CLASS 4A:
West
Allison Gee – Cody
Molly Hays – Cody
Ada Nelson – Cody
Rainey Powell – Cody
Sienna Anderson – Jackson
Dylan Visosky – Jackson
Kendal Allaire – Kelly Walsh
Lillian Hudson – Kelly Walsh
Gia Ireland – Kelly Walsh
Makenna Lorenzen – Kelly Walsh
Rylee Johnson – Riverton
Emmi Weber – Riverton
Brynn Bider – Rock Springs
Delancy Brog – Star Valley
Mikayla Christiansen – Star Valley
Kenlee Engelhardt – Star Valley
Player of the Year = Molly Hays, Cody
Defensive Player of the Year = Makenna Lorenzen, Kelly Walsh
Coach of the Year = Jeff Barkell, Kelly Walsh
East
Aubrey DeWine – Campbell County
Mykhia Dymond – Campbell County
Payge Riedesel – Campbell County
Brooklyn Sullivan – Cheyenne Central
Janie Merritt – Cheyenne East
Bradie Schlabs – Cheyenne East
Tessa Dodd – Laramie
Michon Sailors – Laramie
Anna Sell – Laramie
Maddy Stucky – Laramie
Cami Costello – Natrona County
Brynn Sybrant – Natrona County
Mesa Haft – Sheridan
Bailey Barnes – Thunder Basin
Piper Martin – Thunder Basin
Sydnee Streitz – Thunder Basin
Player of the Year = Maddy Stucky, Laramie
Defensive Player of the Year = Mykhia Dymond, Campbell County
Coach of the Year = Jill Stucky, Laramie
4A Volleyball Championship: Laramie Vs. Thunder Basin
4A Volleyball Championship: Laramie Vs. Thunder Basin
Gallery Credit: Frank Gambino
Mountain View Vs. Powell 3A Volleyball Championship
Mountain View Vs. Powell 3A Volleyball Championship
Gallery Credit: Frank Gambino
Big Horn Vs. Burns-2A Volleyball Championship
Big Horn Vs. Burns-2A Volleyball Championship
Gallery Credit: Frank Gambino
Cokeville-Little Snake River-1A Volleyball Championship
Cokeville-Little Snake River-1A Volleyball Championship
Gallery Credit: Frank Gambino