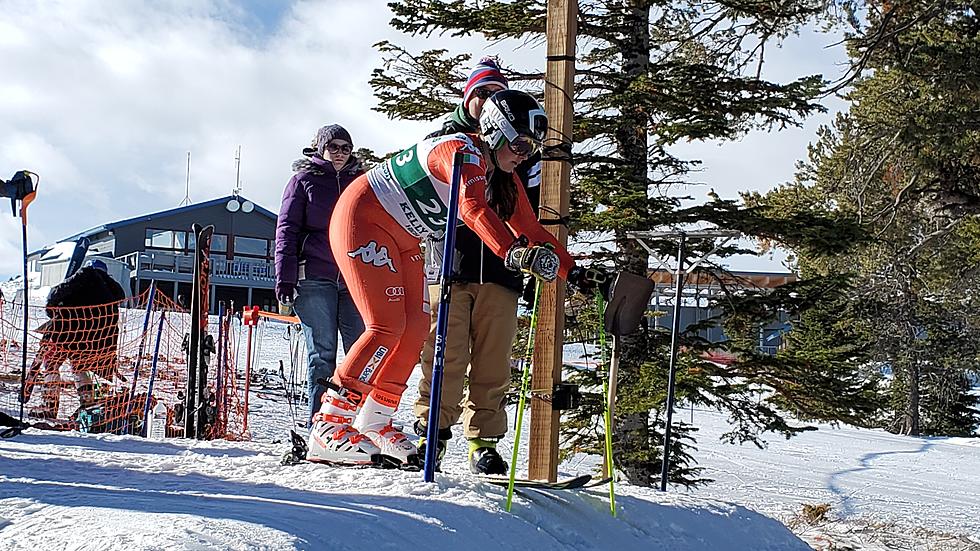 Wyoming HS Skiing Schedule and Results: Jan. 22-23, 2021
Frank Gambino, Townsquare Media
It's a full weekend of action for skiers across the state at the high school level. Both Alpine and Nordic skiing will be competing.
Alpine Skiing
The second races of the 2021 season will be part of the KWHS Bruce Studer Invitational at Hogadon Basin Ski Area on Friday, Jan. 22, and Saturday, Jan. 23.
The downhill skiers will be competing on 'Boomerang' run this week. The racing will feature giant slalom racing on Friday and slalom on Saturday. The Studer Invitational will begin at 11:15 a.m. on Friday and 9:15 a.m. on Saturday.
Casper Kelly Walsh is hosting Casper Natrona County, Cody, Jackson, Laramie, and Pinedale, for action on the slopes.
Friday Giant Slalom Results
Sidney Nash of Jackson wins the GS racing with a two-run combined time of 1:06.51. The Jackson girls placed four in the top five.
Team scores after Day 1 - Jackson 63; Cody 35; KW 29; NC 24; Laramie 13; Pinedale 7
Jackson's Charlie Hoelscher wins the GS race. His two-run combined time was 1:04.90. The Broncs put three in the top five.
Team scores after Day 1 - Jackson 70; KW 38; Cody 30; NC 29; Laramie 4; Pinedale 0
Saturday Slalom Results
Taylor Smith of Jackson captures first place in the girls' division with a two-run time of 1:25.99. She won by over 12 seconds.
Charlie Hoelscher of Jackson completes the weekend sweep on Casper Mountain with a victory in the boys' division. He won with a time of 1:26.33, just edging out teammate Buckeye Milligan.
Final Team Scores
Girls: Jackson 117, Cody 86, Natrona County 62, Kelly Walsh 35, Laramie 31, Pinedale 11
Boys: Jackson 143, Kelly Walsh 70, Cody 59, Natrona County 48, Laramie 22, Pinedale 0
Nordic Skiing
It's the fourth weekend of competition for Nordic skiers, who are split at two different venues this weekend.
The Western Wyoming Faceoff Ski Meet will be at the Trail Creek Nordic Center outside of Jackson. Lander and Pinedale will be skiing against the host Broncs. Friday is a 10 km classic race for varsity skiers beginning at noon. Saturday will be a relay race featuring two skiers per relay team. It's a 2x1.3 km team relay with skate skiing starting at noon.
Friday Jackson Classic Race Results
Kate Brigham of Jackson captures the girls' race in a time of 37:22.1. Her margin of victory was over one minute. The Jackson ladies swept the top five positions.
Jackson's Mason Wheeler won the boys' race by over a minute. His winning time was 31:57.1. The Broncs swept the top three spots.
Saturday Freestyle Relay
Jackson's Kate Brigham and Elsie Hall win the girls' relay with a time of 13:54.3.
Lander's Connor Mays and Kaleb Simonson win the boys' relay with a time of 12:05.3
The second venue is at Tie City in the Happy Jack Recreation Area off of WY HWY 210 east of Laramie for the one-day Laramie Invite. That will have the two Casper schools, Kelly Walsh and Natrona County, plus the Cody/Sheridan squad and host Laramie. Their event will be a 7.5 km skate or freestyle race that begins at noon on Saturday.
Laramie Invite Freestyle Results
Samantha Veauthier from Kelly Walsh won the girls' race in 24:04.5, while Max Radosevich of Natrona County took first in the boys' race with a time of 21:48.4.
Enter your number to get our free mobile app
WYOMING PROUD: The 5 Most Awesome Things Wyoming Gave The World