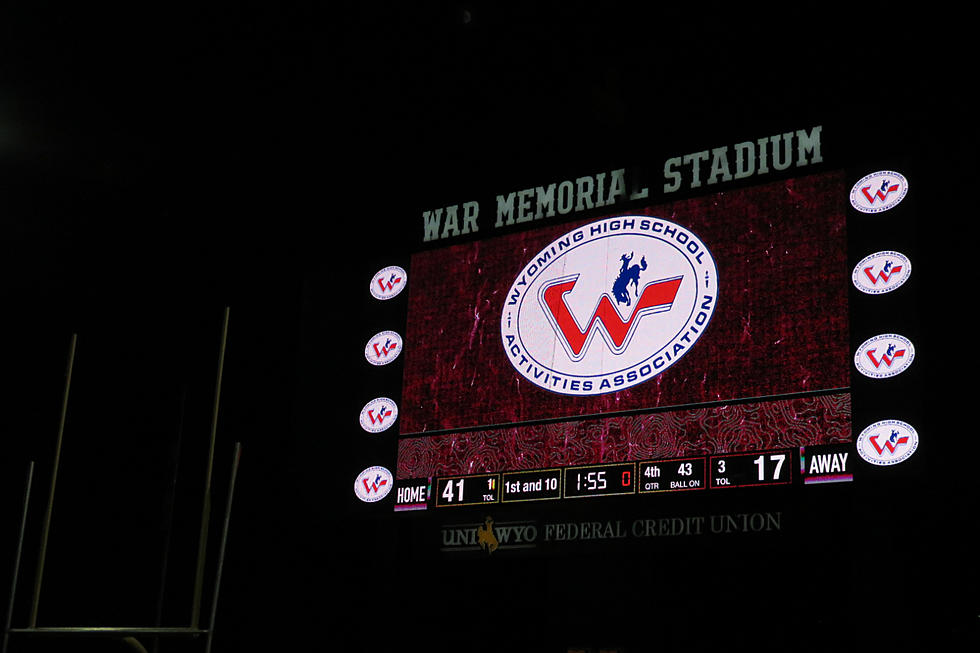 2022 Wyoming High School Football State Championship Scoreboard
David Settle, WyoPreps.com
It's the final weekend of the 2022 high school football season.
The five state championship games are being contested in Laramie at War Memorial Stadium on Friday, Nov. 11, and Saturday, Nov. 12, 2022.
This is the Championship Scoreboard. This is the spot to find game scores throughout this weekend.
The games are listed in the order of their kickoff time and date. The ranking is according to the final WyoPreps Coaches and Media Football Poll of the 2022 season.
Friday, Nov. 11:
Class 2A
Final Score: #2 Big Horn 8 #1 Lovell 7 - Big Horn earns their 8th state title in school history, 1st since 2019. The Rams and Bulldogs both finish 10-1.
Big Horn scored on a 61-yard Garber to Richards TD pass with 11 seconds left in the game. A double-reverse pass to the QB on the 2-point attempt was good, and the Rams won 8-7. Lovell led 7-0 from the 4:40 mark of the 1st quarter until that last drive by Big Horn, which was a 98-yard drive with no timeouts to win it.
Class 3A
Final Score: #2 Star Valley 14 #1 Cody 7 - Braves win 13th school championship, 1st since 2019. Star Valley finishes 10-2, and Cody goes to 10-1.
Star Valley's Taft McClure found Derek Astle on a 17-yard TD pass with 11:34 left in the fourth quarter that proved to be the game-winner. That came after a 12-yard punt by Cody. The Braves' first score came after they recovered a fumble on a muffed punt. McClure threw for 175 yards and 2 TDs with 1 INT. Cody ran for 187 yards but had 3 turnovers in the game, missed a field goal, and turned it over on downs twice in Star Valley territory. The two teams were separated by 9 yards of total offense, 258-to-249.
Saturday, Nov. 12:
Class 1A-6 Man
Final Score: #1 Little Snake River 55 #3 Burlington 8 - Rattlers win back-to-back championships, their 5th in school history. Little Snake River finishes a perfect 11-0 on the season, Huskies finish 9-2.
After the game was tied 8-8 at the end of the 1st quarter, the Rattlers scored the final 47 points of the game. Hadley Myers accounted for 206 yards of offense and four TDs. Kannadis Peroulis added 208 yards rushing and 2 TDs for LSR. Seth Maxson had a TD catch and returned an interception 69 yards for another score. The Rattlers out-gained the Huskies 407 to 213 in total offense.
Class 1A-9 Man
Final Score: #1 Pine Bluffs 33 #2 Shoshoni 27 - Hornets win their 3rd title in program history, 1st since 2017. Pine Bluffs completes the perfect season, going 11-0. The Wranglers finish 9-2.
Dalton Schaefer scored on a 13-yard TD run with 53 seconds left to help the Pine Bluffs Hornets win the Class 1A 9-Man State Championship. Schaefer ran for 182 yards and 3 TDs in the game. Neither team led by more than 7 points. The Hornets capped an undefeated season. Pehton Truempler had 176 yards rushing and 2 TDs in the loss for Shoshoni.
Class 4A
Final Score: #1 Sheridan 34 #2 Cheyenne East 23 - Broncs go back-to-back, their 29th title in school history, 6th in the last 8 years. Sheridan goes a perfect 12-0, East finishes 10-2.
Colson Coon ran for 248 yards, 3 TDs, and had a pick-six to lead the Broncs to another 4A state championship. Coon accounted for all 34 points for Sheridan. Trailing 14-7, Coon sandwiched a pair of field goals around a 14-yard TD run for a 20-14 lead Sheridan didn't relinquish. Cam Hayes threw for 278 yards and 2 TDs with 1 INT in the loss for East.
Title Game Preview links:
Wyoming High School Sports Pics of the Week Nov. 4-5
Wyoming High School Sports Pics of the Week Nov. 4-5