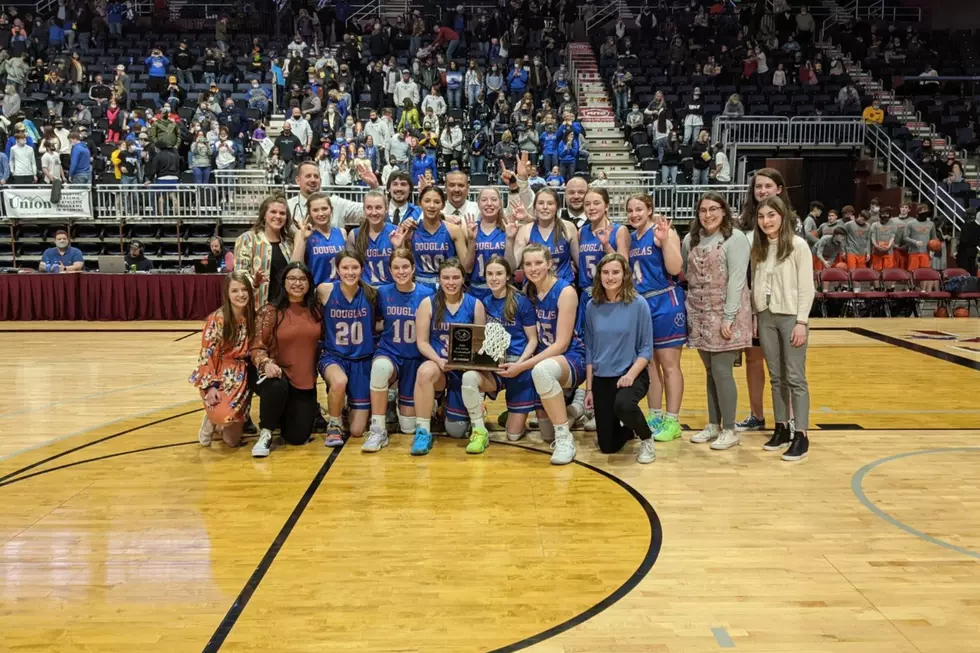 Douglas Dominates in Third Straight Championship
David Settle, WyoPreps.com
A nearly perfect four-year run for the Douglas Bearcats was capped by a third straight 3A girls' state basketball championship on Thursday in Casper.
They defeated the Lyman Eagles in the title game, 51-11, to cap a perfect season with a 24-0 overall record. Their winning streak now stands at 41 in a row.
Allyson Fertig led Douglas with 16 points, nine rebounds, and four blocked shots. Kamdynn Townsend and Chloe Collins scored nine points each, while Joslin Igo added eight points, seven rebounds, and seven assists.
This capped an unbelievable four-year run for the Lady Cats. They went 100-2 with three Class 3A state titles. The virus prevented a chance at a four-peat.
A different game-plan from Lyman slowed down Douglas in the first half. Despite their lowest point total in the first quarter (8) and first half (18), the Bearcats still dominated. They shutout the Eagles in the first period and didn't allow double digits until late in the fourth quarter.
The Eagles played four against five on offense for most of the first half. It was a different plan to try to combat the transition game for Douglas. The Lady Cats shot just 9-27, 33 percent, in the first half. Fertig was slowed by two fouls. She had just four points and three rebounds at the break.
It was 8-0 after the first quarter. Lyman scored in the second, but Douglas doubled them up, 10-5, in the period. The Bearcats held an 18-5 lead at the break.
Fertig got going in the third with post-ups and offensive rebounds. Douglas extended to 37-9 after three-quarters of action. The Lady Cats scored the first 13 points of the fourth quarter, and midway through the final frame, the running clock rule came into play.
Douglas shot 42.6 percent from the field. They had a 37-29 edge on the glass and took advantage of 23 Lyman turnovers. The Lady Cats scored 23 points off those turnovers. They also enjoyed a 15-2 edge in second-chance points thanks to 15 offensive rebounds.
The Eagles were led by Sage Bradshaw with five points. They shot 5-37 in the game, just 13.5 percent from the field.
Douglas has won an amazing 89 straight games against 3A competition.
The only losses in this senior class's career were in the 2019 season to 4A state champion Thunder Basin and in the 2020 season to Lynwood, CA, a team ranked in the top 40 of the nation at the time.
For Allyson Fertig and Joslin Igo, it caps some all-time careers in Wyoming girls' prep basketball history.
Fertig finished with 1,855 career points, eighth all-time. Her 830 career field goals are the most in state history and 62 more than second. She also had 1,198 total rebounds and 452 blocked shots. Both rank her third all-time.
Igo finished with 583 career assists, the most in girls' basketball history in the Cowboy State. She also scored over 1,000 points in her career.
Both are moving on to the collegiate level. Fertig heads to Laramie and the University of Wyoming, while Igo will play at Casper College.
For Lyman, it was also their second straight title game. They lose only three seniors and return most of their key contributors next season.
How Many in America: From Guns to Ghost Towns
Can you take a guess as to how many public schools are in the U.S.? Do you have any clue as to how many billionaires might be residing there? Read on to find out—and learn a thing or two about each of these selection's cultural significance and legacy along the way.