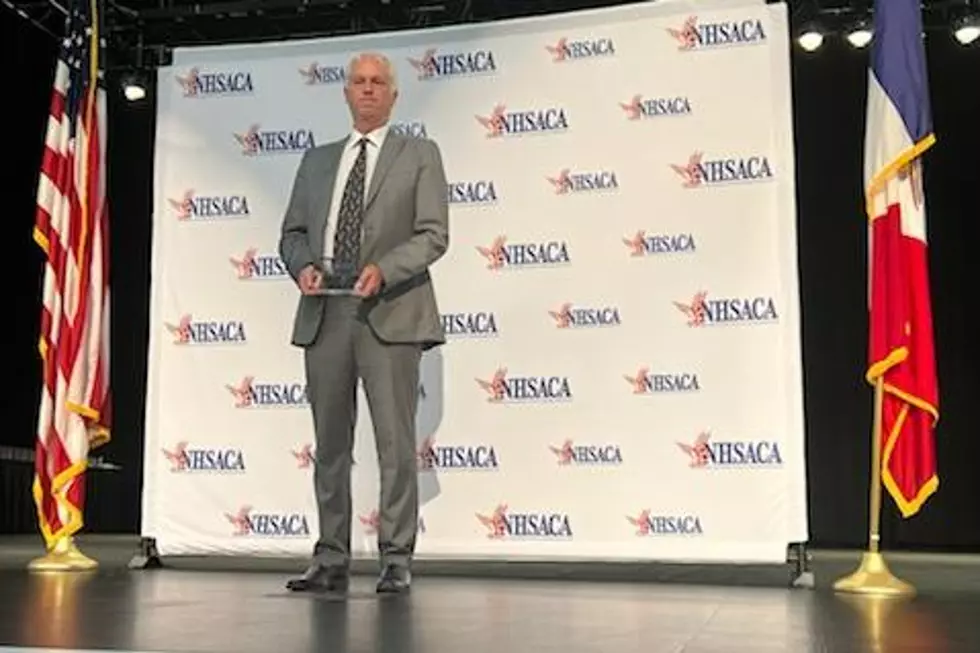 Gillette's Mitch Holst, Buffalo's Steve Mischke Earn National Coach of the Year Awards
Courtesy: Zach Schmidt, Campbell County HS AD
The National High School Athletic Coaches Association (NHSACA) recently held its annual convention and two Wyoming coaches received Coach of the Year honors.
Gillette's Mitch Holst and Buffalo's Steve Mischke won awards at the NHSACA banquet in Des Moines, IA.
Former Campbell County head girls' basketball coach Mitch Holst was named the 2022 National Girls Basketball Coach of the Year. He had been previously nominated two other times.
Holst was head coach at CCHS for 21 seasons. He won 11 state championships with the Camels. His career record was 429-132, which equates to a .765 winning percentage. Holst served on the Wyoming Coaches Association (WCA) All-Star Selection Committee for ten years. He's been chosen the WCA 4A Girls Basketball Coach of the Year 11 times, a conference coach of the year 13 times, and a WCA North All-Star Team Coach.
Steve Mischke from Buffalo High School won the Girls Assistant Coach of the Year award.
Mischke has been coaching for 53 years, 50 of those in Wyoming. He's been at Buffalo High School for the last three years as an assistant with the track and field program. He coaches the Pole Vault at BHS during the outdoor track and field season. Mischke also serves as the co-head coach of the indoor track and field team. He coaches pole vault, hurdles, and horizontal jumps.
He's a WCA Hall of Famer and is noted for success in football, basketball, and track. Mischke coached teams that won 13 state championships, was state runner-up four times, won 11 regional championships, two district titles, and was regional runner-up six times. He's also been a WCA Coach of the Year four times.
Mischke spent most of his coaching tenure in Wyoming at Worland High School, 1973-1999.
Congrats to Coach Holst and Coach Mischke on their big, national honor! WyoPreps did not have an individual picture for Coach Mischke.
Eight other Wyoming coaches were national finalists this year.
Ron Chapin from Buffalo was nominated for swimming & diving. Rex Hohnholt at Saratoga was nominated for boys' cross country. Cody's Norm Sedig was up for tennis. Jeff Brazil from Jackson was a finalist for girls' cross country. Charlie Williams of Moorcroft was nominated for wrestling. Cokeville's Bill Thompson was in the running for volleyball. Ben Schanck at Kelly Walsh was up for special sports (skiing). The eighth coach nominated was Haley Gray at Campbell County High School for softball.
The selections are based on longevity, success, and service to a state association.
Wyoming is a part of Region Seven in the NHSACA, which also includes Alaska, Idaho, Montana, Oregon, and Washington.
47th Annual Milward Simpson Awards Banquet
Milward Simpson Awards, Wyoming