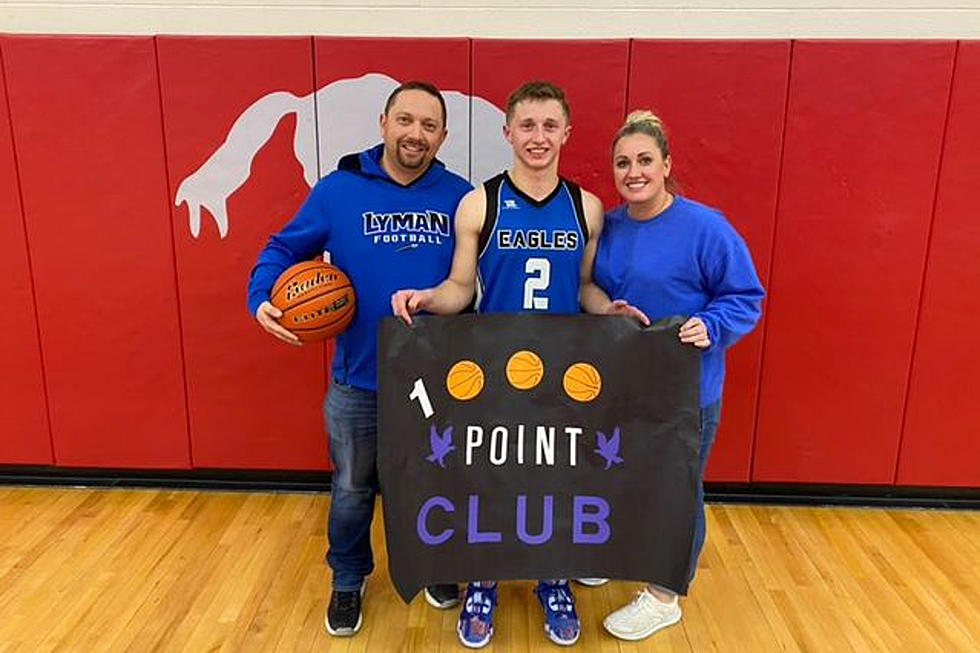 Lyman's McKoy Smith Reaches 1000 Points in Basketball
Courtesy: Cope Thomas
Lyman senior McKoy Smith is among the latest prep basketball players in the state to pass 1,000 points in his career.
Smith accomplished the feat last Thursday in Lyman's win at Rawlins, 58-33.
He is a two-time all-state and all-conference player for the Eagles.
As a senior, he is averaging 12.7 points and shooting 39 percent from the field. Smith also averages a team-best 2.3 assists per game, as well as, 1.2 steals per game. He shoots 73 percent from the free-throw line. Lyman is currently 11-6 on the season and 3-1 in conference games.
During his junior year, McKoy led the Eagles with 14.9 points, 1.3 assists, and 2.2 steals per game. Lyman went 16-13 last season and won the 3A Southwest Quadrant with a 6-0 mark.  The Eagles lost in the consolation championship at the 3A state tournament.
As a sophomore back in the 2020-21 season, Smith paced Lyman at 11.5 points, 2.5 assists, and 2.7 steals per game. The Eagles were 13-11 that season and appeared in the 3A state basketball tournament.
Smith was also a standout football player for Lyman High School. He was a three-time all-state player and helped the Eagles win a pair of 2A state championships in 2020 and 2021.
Congratulations, McKoy.
Wyoming High School Sports Pics of the Week/ Feb. 9-11
Wyoming High School Sports Pics of the Week/ Feb. 9-11