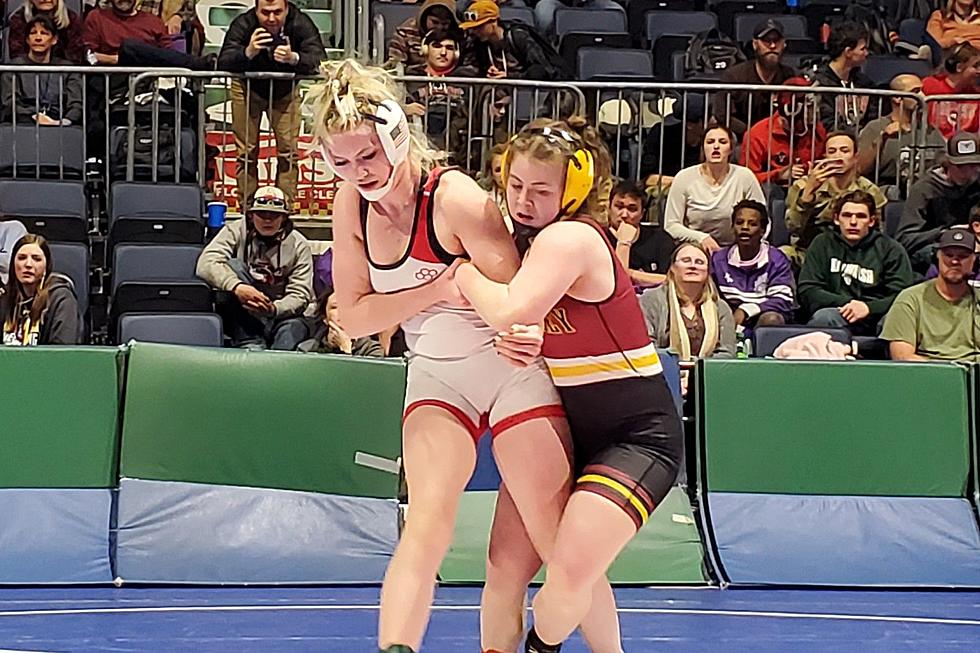 PhotoFest! 2023 Girls State Wrestling Championship Round
Photo Courtesy: Frank Gambino
The very first sanctioned Girls High School Wrestling State Tournament concluded on Friday night at the Ford Wyoming Center in Casper.
Star Valley captured the team championship with 184 points, Pinedale was 2nd with 129, Sheridan 3rd with 102, Kelly Walsh 4th with 97, and Kemmerer 5th with 88 points. 212 girls participated in this year's tournament and the championship round certainly attracted a lot of attention. Here's the list of individual champions:
100 lbs.  McKinzie Mortensen-Pinedale
105 lbs.  Molly Bornhoft-Wind River
110 lbs.  Rebekah Anderson-Moorcroft
115 lbs.  AnnaBeth Bornhoft-Wind River
120 lbs.  Kyah Miller-Newcastle
125 lbs.  Ariel Kumelos-Wheatland
130 lbs.  Telia Peters-Buffalo
135 lbs.  Veil Foreman-Star Valley
140 lbs.  Brinley Green-Rawlins
145 lbs.  Meadow King-Cheyenne Central
155 lbs.  Josie Hauk- Lingle Fort Laramie/Southeast
170 lbs.  Olivia Smith-Kelly Walsh
190 lbs.  Maggie Smith-Rock Springs
235 lbs.  Becca Oetken-Sheridan
Take a look at our huge assembly of photos from that championship round on Friday in Casper. They can be found in the gallery below. Enjoy!
Girls State Wrestling Tournament-Championship Round
Girls State Wrestling Tournament-Championship Round