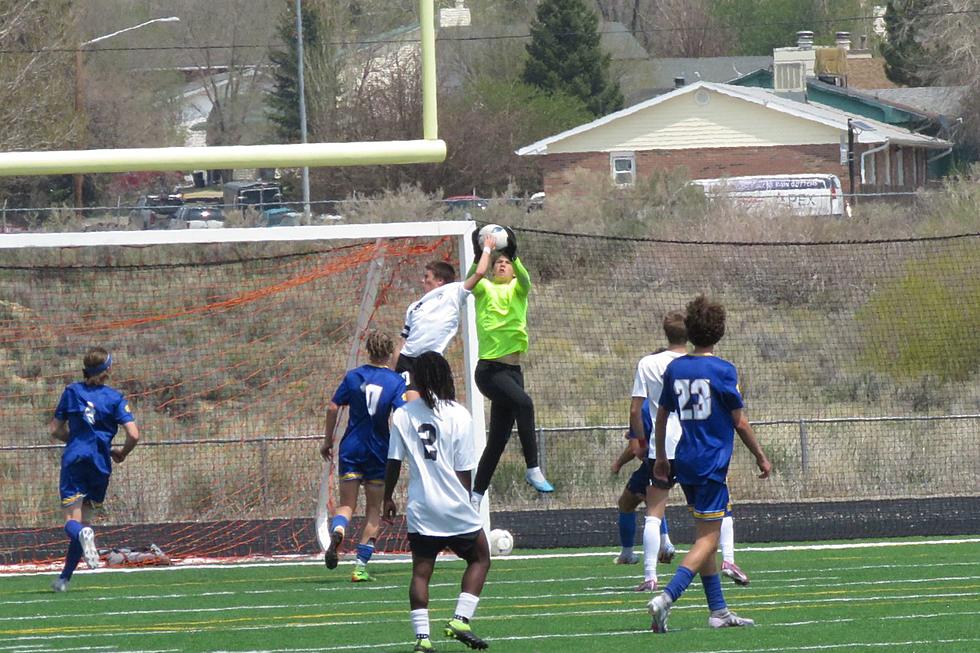 Wyoming HS Soccer State Tournament Day 2 Recap 2023 [PHOTOS]
David Settle, WyoPreps.com
Spots in the four title games, and trying to stay alive were part of Friday's action at the Wyoming High School Soccer State Championships.
In 4A at Rock Springs, the two No. 1 ranked teams both fell in the semifinals.
Defending champion Thunder Basin girls lost to Kelly Walsh in the second round of a sudden death shootout, 6-5. The final score was 2-1. The Trojans will play Jackson for the state title. The Broncs took care of Cheyenne East, 3-0. Taya McClennen had two of the three goals for Jackson. In consolation play, Laramie eliminated Natrona County, 5-3. Alexis Lucero had the hat trick plus one, a four-goal performance. Sheridan ousted Riverton, 1-0.
In boys' action, No. 1 and undefeated Kelly Walsh lost their first game of the season to Thunder Basin, 1-0. The Bolts got the game-winner in the 60th minute of play and held on. They will play Cheyenne Central for the championship. The Indians won a wild 4-3 match over Sheridan. Those two combined for five goals in the first 15 minutes of the match. A late first-half goal by Central tied it at 3-3, and the Indians scored early in the second half for the victory. Jackson eliminated Laramie with a 5-1 victory, and Star Valley knocked out Natrona County 1-0.
The trophy games are on Saturday with the championships at 2 and 4 p.m. at Rock Springs High School.
From 3A in Green River, the Cody Fillies continued their dominance with a 5-0 win in the girls' semis over Lander. They will take on Worland for the championship. The Warriors got past Buffalo 3-1. In consolation action, Powell edged Mountain View, 3-2, and Douglas eliminated Rawlins, 7-1.
For the boys, four-time defending champ Worland held off Cody, 1-0. They will face Douglas for the title on Saturday. The Bearcats defeated Torrington, 2-1. In the loser-out matches, Green River beat Powell, 3-2, and Lander survived Buffalo, 2-1.
The trophy matches are on Saturday with the championships at 1 and 3 p.m. at Lincoln Middle School, where Wolves Stadium is located.
WyoPreps was at some of the Class 4A action on Day 2. We have several photos from the action. We hope you enjoy them.
Wyoming High School Soccer State Tournament Class 4A Day 2 2023
Photos from the 2023 Wyoming High School Soccer State Championships from Class 4A on Day 2.