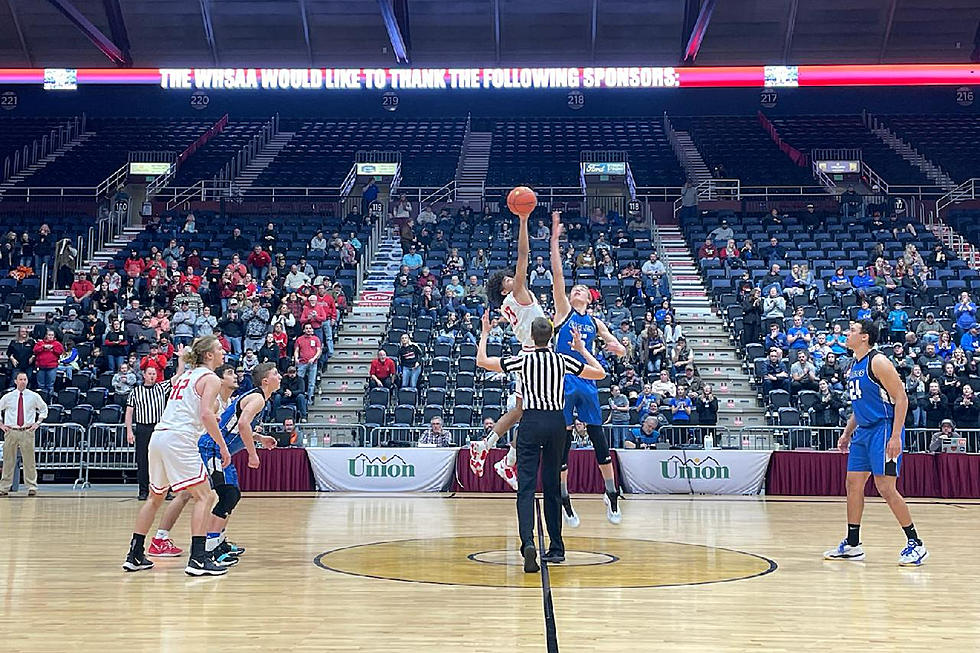 3A/4A Wyoming High School State Basketball Semifinal Storylines
Mikaela Settle, WyoPreps.com
The semifinals of the Class 3A and 4A state basketball championships are tonight in Casper.
There are several storylines to follow after what happened on Day 1 of the state tournament on Thursday.
3A Girls – Can anyone dethrone Douglas?
The three-time defending champion Bearcats steadily pulled away from Mountain View in the first round for a 64-40 victory behind 25 points from Allison Olsen.
Next up is the Lander Tigers, who toppled Newcastle, 52-45. Lander's supporting cast played a huge role in knocking off the top-ranked Dogies.
Demi Stauffenberg was held to four points, but Taline Tendore and Ryan Bell stepped up with 17 and 16 points, respectively.
Tigers head coach Serol Stauffenberg said they've seen other teams take away Demi all year.
"The irony is that Demi has been more than happy to take that role, and a lot of times I just chuckle because they're chasing the wrong people… it's not easy to chase somebody when you've got other kids around them. They step up, and they've stepped up all year."
Stauffenberg added that it'll be easier to focus on playing Douglas in the semis this year compared to last year. He admitted they were such heavy favorites a year ago.
"This time I think there's a true reason to be focused, to stay focused. I think they're excited to be in a semifinal game that truly either team can win."
The tip-off is at 4:30 p.m. from Casper College.
The other semifinal has last year's runner-up, the Lyman Eagles, taking on the Buffalo Bison.
Both of those teams used a strong quarter in their first-round victory. For Buffalo, they got their separation versus Pinedale in the second quarter, as they outscored the Wranglers, 13-5, and built a 9-point halftime lead. The Bison put it away with a good fourth quarter and won 65-48.
Lyman trailed 26-24 at halftime against Torrington but held the Blazers to 9 points in the second half. The Eagles won 47-35. A 15-3 third period was the difference. Charlsie Rose had 18 points and 10 rebounds for Lyman.
The Eagles won the only meeting in the regular season on Jan. 8, 58-51. That game will start at 6 p.m. at Casper College.
3A Boys – A New Champion Will Be Crowned
In a game that lived up to the hype, Douglas stopped defending champion Worland, 58-47, on Thursday.
The Bearcats held the Warriors to 3-22 shooting from 3-point range. Douglas also shot 45 percent from the floor versus just 29 percent for Worland.
Bearcats head coach Chase Plumb said it was a battle from the start and knew it would be.
"We expected to play Worland at some point in the state tournament. Why not the first round? Let's get it done."
Plumb mentioned there was a stern talk with his team at halftime. That produced results in the second half. After giving up 21 points in the second quarter, they held the Warriors to 16 total points in the second half.
"Our defense was what it needed to be. We were one of the better defensive teams in the state all year because we kept kids out of the paint. In the second quarter, they scored 21 points on us on dribble drives to the paint… Second half, we committed to playing great defense, and we didn't allow dribble penetration, which obviously, was a turning point."
Cameryn Spence, Nate Halquist, and River Bergquist combined for 35 points in the victory. They'll be counted on again in the semis versus Powell at 7:30 p.m. at Casper College.
Powell has turned it on in the last few weeks. The Panther won the 3A West Regional title last weekend and blew out Kemmerer in the first round, 70-40.
Brock Johnson, Gunner Erickson, and Zach Ratcliff combined for 35 points in the victory.
Panthers' head coach Mike Heny said they've just been on a steady incline.
"Our motive was to improve every day, and I think we've been staying to that plan. We've got a bunch of young kids who are inexperienced; no starters coming back from last year; really not a lot of guys that played long minutes, so it was a process. We talked about patience over panic."
It paid off.
Heny added, "We could see it coming. We'd put games together. The seven-point loss at home to Worland, and then we go and get some tough wins against teams that beat us earlier, and so, right now, we're playing well. We're shooting the ball like I thought we could, like I've seen in practice, and that's really been a key."
Heny added being on-point defensively is the key versus Douglas.
The other semifinal has Buffalo taking on Rawlins at 9 p.m.
Both posted blowout victories in round one on Thursday.
Buffalo held Kemmerer to five points in the second quarter and rolled to a 62-44 win versus the Rangers.
Eli Patterson, Nathan Killian, and Anthony Peters scored 39 points combined.
They'll face the Outlaws for the third time this season.
Rawlins rolled past Lyman, 63-29. Ashton Barto paced the Outlaws with 20 points, while JC Ice had 16 and Eli Kern added 11 points. They led 35-12 by halftime. Rawlins shot 51 percent and held Lyman to 24 percent from the field.
Rawlins won at Buffalo in the regular season by seven, 59-52, and at the regional tournament last week, 65-37.
One of those four will win a title this weekend.
4A Girls – Will We See a Matchup of the Undefeated Teams?
Defending champion Cheyenne East and last year's runner-up Cody have been the top two teams all season long. Both entered the state tournament with zero losses. Now, they've completed step one. Can they get back for a rematch on Saturday?
Cheyenne East rolled past Rock Springs, 62-24. Boden Liljedahl knocked down six 3-pointers in the first half and set the tone for the victory. She finished with 24 points.
Cody trailed Campbell County at halftime in the first round, 17-15. The Fillies turned it on in the second half and finished off the Camels, 51-27. Molly Hays had 22 points and five rebounds for Cody.
Both are into the semifinals against Natrona County and Thunder Basin, respectively.
The NC Fillies beat Cheyenne Central, 45-34, and the Bolts topped Green River, 47-38. NC held Central to 20 percent shooting in the second half and outscored the Indians 28-16 in those two frames.
For Thunder Basin, they got off to a great start with a 14-3 lead over the Wolves and held off any challenges Green River made. Laney McCarty scored 11 points and Gabby Mendoza added 10.
Cody and Thunder Basin will face off at 4:30 p.m. in a rematch of last year's first-round, won by Cody, 59-56. The Bolts have been the third-best team in 4A girls most of the season.
The nightcap is Cheyenne East versus Natrona County at 6 p.m. The Thunderbirds blasted NC in the only regular-season meeting, 69-38, on Jan. 7, in Cheyenne.
4A Boys – The East Swept the West – Will Anyone Stop Thunder Basin?
The 4A East Conference swept all four first-round games on Thursday. That meant the East went 41-4 in head-to-head games with West Conference teams this 2021-22 season.
Kelly Walsh trailed by one at halftime but outscored Star Valley 30-19 in the second half for the win. Tyler Pacheco scored 20 points and Davis Crilly added 12, all in the fourth quarter for the Trojans.
Thunder Basin blew out Natrona County 66-28. The Bolts led 32-11 by halftime and never looked back. Deegan Williams, Ryan Baker, and Kayden LaFramboise scored a combined 45 points in the win.
Cheyenne East topped Rock Springs, 69-46. The Thunderbirds shot 57 percent from the field and got 18 points from Kysar Jolley and 17 from Drew Jackson in the win.
Sheridan blasted Riverton, 57-32. The Broncs started the game on an 18-5 run. Riverton trimmed it to eight by halftime, but Sheridan poured in 21 points in the third and pulled away.
The question is, will anyone slow down Thunder Basin, who seems to be on a mission to get back to the title game but finish their quest this time?
Thunder Basin is 3-0 against Kelly Walsh this season. Their wins have come by 8, 10, and 14 points, respectively. That one starts at 7:30 p.m. at the Ford Wyoming Center.
East will face Sheridan in the other semifinal at 9 p.m. The Thunderbirds won the regular-season meeting by 11 in Cheyenne.
Does any of the other three have enough to topple the Bolts? Two games will decide that tonight and tomorrow.
PhotoFest! State 3A Basketball: Day One
PhotoFest! State 3A Basketball: Day One