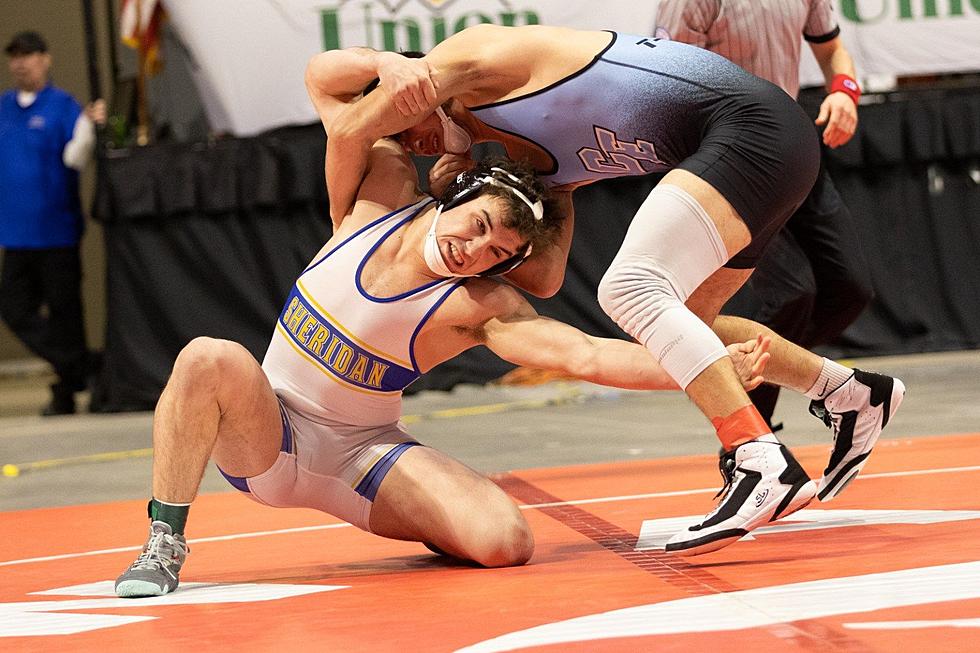 PhotoFest Encore! Boys State Wrestling
Photo Courtesy: Libby Ngo
The State Boys Wrestling Tournament produced some compelling matches in the championship round on Saturday in Casper and some well-deserving champions. Lane Ewing of Douglas become just the 27th athlete in the history of Wyoming High School Wrestling history to win 4 state titles and went undefeated this season. That's an amazing accomplishment and Ewing was the only wrestler that was aiming for a 4th consecutive state championship. Here's the list of the multi-state champions after Saturday's title bouts.
4A:
Broc Fletcher-Rock Springs   (3)
Antonio Avila-Thunder Basin  (3)
Lane Catlin-Thunder Basin    (3)
Liam Fox-Cheyenne East      (2)
Dane Steel-Sheridan             (2)
3A:
Lane Ewing-Douglas             (4)
Kale Knezovich-Green River (3)
Thomas Dalton-Green River  (3)
Grayson Beaudrie-Cody        (2)
2A:
Karl Haslem-Kemmerer         (3)
Pehton Truempler-Shoshoni  (3)
Roedy Farrell-Thermopolis    (3)
Dayne Humes-Moorcroft        (2)
Nathan Fish-Lusk                   (2)
Roany Proffit-Kemmerer         (2)
Kaleb Brothwell-LFL/SE         (2)
Riggen Walker-Kemmerer      (2)
Wyatt Trembly-Dubois             (2)
Landon Walker-Cokeville        (2)
Zane Collins-Lovell                 (2)
Christian Reilly-Hulett             (2)
We also have a fresh batch of pics of the finals courtesy of Libby Ngo and they can be found in our gallery below. Look for somebody you know.
2023 Boys State Wrestling Part 2
2023 Boys State Wrestling Part 2