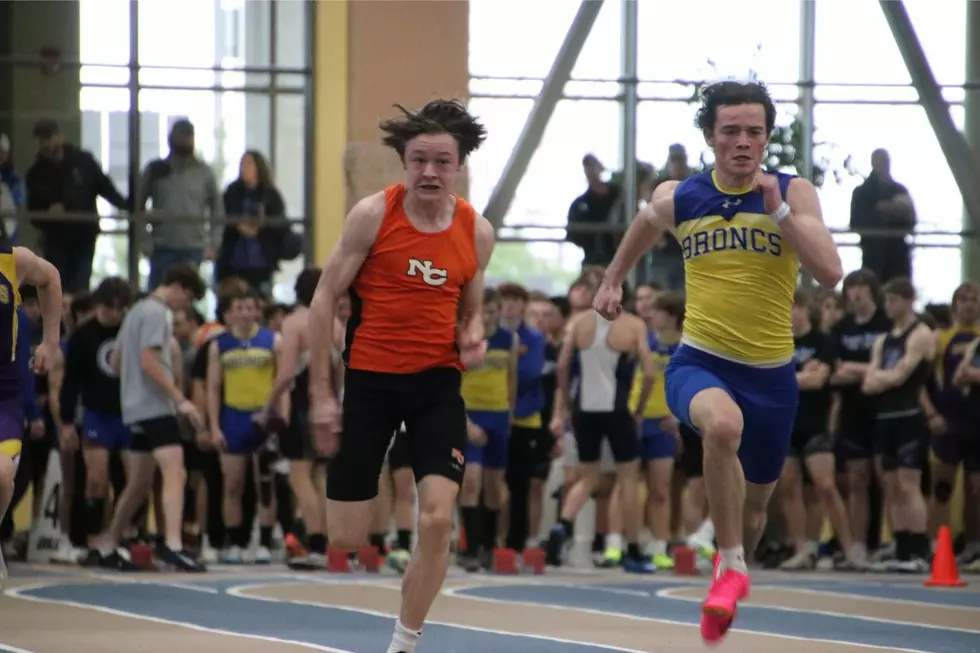 PhotoFest! Gillette Indoor Track Meet
Photo Courtesy: Shannon Dutcher
The indoor track season rolled along with a big meet in Gillette over the weekend at the Rec Center. On the girls' side, Ryann Smith of Rawlins won two events, the 800-meter run and the 1600-meter run. In the other distance race for the ladies, Zena Tapia of Worland took first in the 3200 meters.
In the girls' sprint events, Taliah Morris of Cheyenne East took the tape in the 55-meter dash, Natrona's Ella Spear placed first in the 200, and Ada Nelson of Cody taking the 400. Eva Nitschke of Rawlins was the winner in the 55 hurdles In the relays, Natrona won the 4x200, Sheridan took the 4x400, Cody captured the 4x800 and Powell took the tape in the 1600 medley. In the girls' field events, Desirae Iacovetto of Douglas won the high jump, Callista Roush of Sheridan took the triple jump, Sheridan's Ellen Brown won the long jump, Reese Door from Campbell County placed 1st in the pole vault and Kelly Walsh's Teagan Becker won the shot-put.
On the boys' side in the sprints, Marik Cummings of Cheyenne East won two events, the 55 and 200-meter dashes. Patrick Aasby of Sheridan prevailed in the 400 with Gage Gose taking the 55 hurdles. Over in the distance races, Natrona's Jackson Dutcher was a two-event winner taking the 800 and 1600. Trajn Swalstad from Worland was the 3200 winner. In the relays, Thunder Basin won the 4x200, Sheridan placed first in the 4x400, Kelly Walsh won the 4x800, and Campbell County won the 1600 medley.
In the boys' field events, Kaiden Lee of Natrona won a couple of events, the high jump, and the triple jump. His teammate Kavin Hoff took the pole vault with Laramie's John Rose winning the long jump and Cooper Stevens winning the shot.
We have a collection of photos from that Gillette indoor meet in our gallery below, compliments of Shannon Dutcher. Enjoy!
Gillette Indoor Track Meet-2023
Gillette Indoor Track Meet-2023